By Jonathan Haswell In Feature Articles
"I'm never going to give up. Racing is my life."
These are words that I have heard from many kids (even from 'kids' in their twenties) at the local kart track, but I recently had the chance to speak to a young man who really means them–and continues to prove it every day by chasing his dream, despite the difficult hand he was dealt at a young age.
Michael Johnson had a shining career as a young motorcycle racer, securing an amazing fourteen National Championships by the age of 12. On August 13 2005, 12-year-old Michael took part in a dirt track race at Hiawatha Horse Park in Sarnia, Ontario.  After making a move on the final lap to take the lead, having run out of tear-offs and trying to clear his visor, he hit a rut and lost control of his 250cc bike. Flying through a fence, he flipped over the handlebars, resulting in a broken collarbone, ribs, left leg, and ankle. He also fractured vertebrae in his back, meaning he is now paralyzed from the mid-chest down. He underwent 11 hours of surgery and still has four rods and 15 screws in his back! Michael spent nearly a year having treatments, including skin grafts, for the pressure sores he had, before doctors would consider letting him go back to doing anything physical.
This is the amazing story of how he not only recovered from his serious injuries but also learned to race again.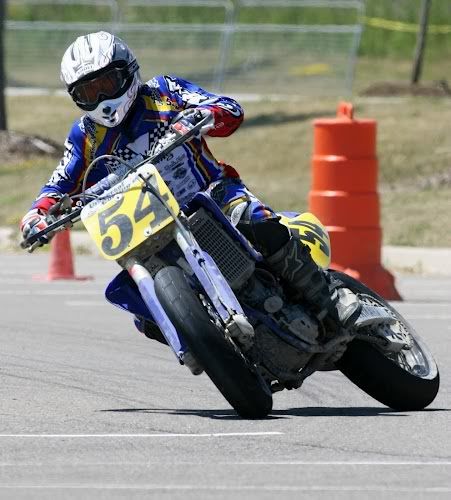 Michael, what are your memories of those times racing bikes,  the accident and working towards being able to get back to racing?
My memories are of being with all of my buddies and racing all over the United States and Canada; we were just having a ball. I was living the dream, it was really fun. The day of the accident was just a normal day, a flat track race around an hour from my house. I hit a rut, made a right turn and hit the handlebars so hard that it broke my back. That was when I was paralyzed. In 2007 I was mainly doing some occupational exercises but my real rehab didn't start until 2009 when I had my Stem Cell Transplant in Portugal. That was when the real rehab took place, doing work with my legs and everything which still continues to this day. I do it twice a week for three hours at a time and also work with my trainer three times a week for three hours a time for my racing.
Michael refused to give up, so his father purchased a go-kart and fitted hand controls, which were once used by CART champ Alex Zanardi. On Christmas Eve of 2006 he saw his chance to get behind the wheel of the kart his father had built in the family business' car park. It was a successful test, and the following year Michael raced at East Lansing Kart Track, taking first place in the Junior SuperCan class and being named the track's Driver of the Year. 2008 saw Michael win the Rotax Junior Class in Michigan and qualify for the Rotax Nationals in Wisconsin, then in 2009 he made a move to the Great Lakes Pro Series, scoring six first-place finishes in Rotax and 12 podiums in the Tag and Pro classes. It was a successful year by anyone's measurements.
You were making amazing progress and winning races. Why do you think you made the transition to karts so effectively?
I think the main difference with karts with hand controls is that I didn't have to adapt that much. With the motorcycles I had a bunch of controls on the handlebars and with all the controls on the kart wheel it wasn't too different. In pure racing, despite the difference between two wheels and four wheels, my racing instinct took over and I was having a ball doing what I love to do.
In 2009, aged 17, Michael underwent stem cell surgery and began an aggressive physical therapy program in the hope of improving his condition. This never once affected his spirit or desire to go racing. That same year he made the step to single-seater Formula cars, where he raced in the legendary Skip Barber Formula Series, having had the car modified for his unique requirements.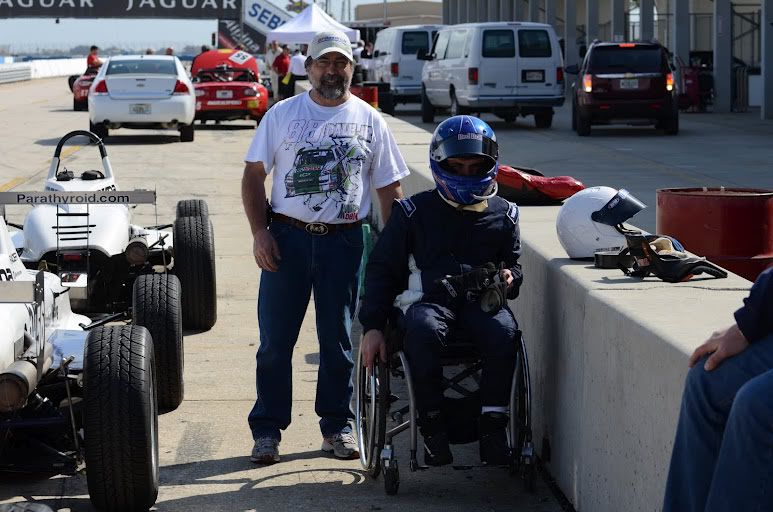 What kind of alterations needed to be made to the car to make it suitable for you to race in this series?
The main changes we made were to the throttle, brake, and clutch. Very similar changes to the ones we made to my ProKart, but just not as advanced. I would push in and the steering column would collapse and that's how I would apply the brakes. The throttle was just a cable that connected to a paddle on the left side of the steering wheel. The clutch was then connected to a paddle so I could push that in with my hand.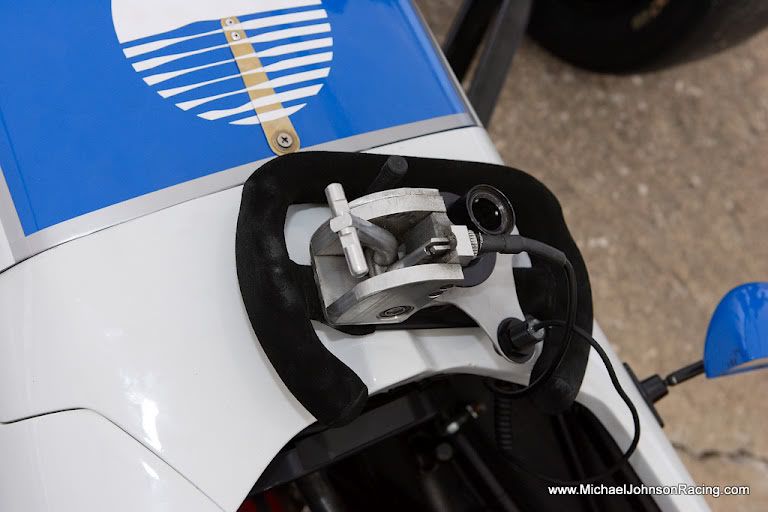 After a sporadic 2010 series, Michael committed to the 2011 Summer Series, scoring three wins, seven podiums, and 13 top-five finishes, securing an impressive third-place in the championship, and taking a big step towards his ultimate goal of racing an IndyCar. Around this time he met Jeremy Shaw, founder of the Team USA Scholarship, who was inspired by his application and desire.
"I had heard about Michael's exploits with Skip Barber," Shaw recalled, "but he exceeded my expectations when I met him for the first time last year during the IndyCar weekend at Milwaukee. He was calm, confident–but not overly so–and extremely focused on being able to make the step up into USF2000 for 2012. I have seen him drive both a Skip Barber car and in the recent Cooper Tires Winterfest in USF2000, and he's genuinely fast. I admit, I have no idea how he manages to do what he does, but his positive attitude is truly inspirational."
Having achieved solid results in the Barber Series and having secured the support of the likes of Jeremy, how was your confidence and approach to 2012?
The support of everybody kept me positive and motivated to achieve the goal I want to achieve. I know it's going to be a little rocky to learn the new car and the new tracks and adapting to what these cars can actually do. The team, JDC Motorsports, are really on board with me and I think it will be a good year.
2012 sees Michael drive the number 54 JDC Motorsport car in every round of the highly-competitive 2012 Cooper Tires USF2000 National Championship, a competition that forms part of the "Mazda Road to Indy" driver development ladder that was introduced by IndyCar back in 2009, with the aim of helping out career-minded drivers as they fight to reach the IZOD IndyCar Series and Indy 500.
Michael, this is a huge move from your previous series. What kind of preparations are you making?
I'm doing a lot of training for my upper body, as everything is done with my arms, a lot of core work to ensure I am physically fit and not getting tired in the car during a race, and making sure my mind is all good. I'm also watching a lot of video from races and, before the opening round at Sebring, I will do a couple of tests with my team mate. I am really looking forward to it as it will be really beneficial.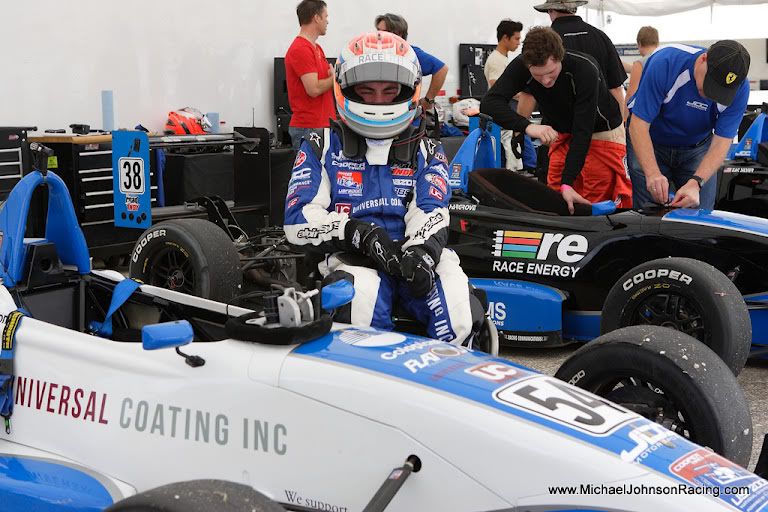 You use Simraceway's SRW-S1 Steering Wheel on your home rig. How much of a benefit has it been to you in light of your need to practice without conventional pedal boxes?
I do a lot of work on my simulator using the Simraceway wheel. I have adapted it to connect to my G27 base so it has some support. The wheel has been of huge benefit, and means I can concentrate on my driving instead of worrying about the controls. That's how I need to be in my race car as well because if I am worrying about how to use the controls then I am not thinking about my lines. I think all my focus and energy needs to be on racing and not on what I may be doing wrong with my controls. If everything is set with my simulation and I'm doing things perfect, then my driving in the real car will be good.
How does racing in the virtual world compare to racing in the real world? Does it really make a difference in your preparations and how accurate do you find the cars, tracks, and handling?
The realism is very close, the bumps are hard to get right but the accuracy of the vibration and the steering input is very helpful to learn the tracks. I haven't compared lap times yet, but it will be pretty cool this year to do that.
Going back to real-world racing, with the likes of NASCAR being so popular, what is it about IndyCar that caught your attention?
When I was in Karts we were looking at options. I wanted to get into cars as that was the next step and we looked into NASCAR a bit but the aspect of open-wheel/cockpit racing fascinated me. We contacted Skip Barber, who was totally on board. I got to test a formula Mazda car as a one off, just to see if racing cars was what I really wanted to do, using hand controls. When I decided it was–and Skip Barber agreed–the next step was 'On the Road to Indy' and I think this is where I want to be right now. In 10-15 years from now if NASCAR is the right option then we can look at it, but right now open-wheel is where I want to be.
In light of your injuries, it's an amazing achievement to have got this far racing in single-seaters, a real testament to your determination. Did IndyCar allow any special dispensation to ensure you could race on an even playing field?
It took a while. It wasn't anyone's fault but they had to make sure everything in the rule book was perfect. Their legal department had to be sure and we were accepted maybe a-month-and-a-half ago when I got my IndyCar Licence. There aren't any exceptions in the rules, the only difference is I can use hand controls. Other than the hand controls, the car is exactly the same as all the others.
A tough season lies ahead of you with a pretty steep learning curve. What are you aspirations for this year?
I think this year, to finish top ten–I have raced against a lot of the other drivers before.Of course the real goal is to win the championship but I can be in the top 5/10 each race–that's achievable.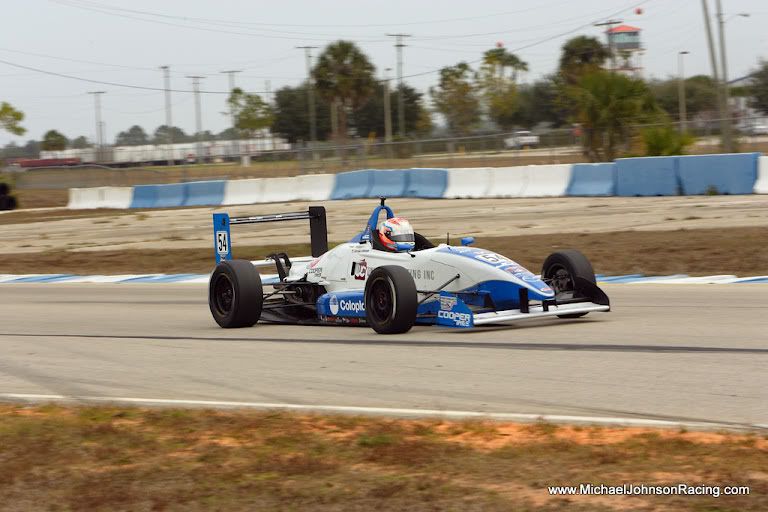 You are achieving what many people, able-bodied or not, dream of. Do you have any words of encouragement for kids out there who want to follow in your tire marks?
With any goal, you can never give up. If you give up, you give up on yourself, your family, friends, and people who look up to you. Everyone will have issues but never give up; keep pushing and something positive will come out of it. For me, that's what's happening right now.
Who has been your key support?
Definitely my family. My dad, mum, and grandpa have always been supporting me. From when I first started racing motorcycles and through my accident. My dad helped and pushed me through my recovery, he tried to get me to do things on my own which really helped me. My manager has been a huge help with things like finding sponsorship, my PR manager, my driving coach and everybody who has been helping me over the last 7 years since I was hurt, and even before then. It's been really positive and kept me going as I try to win a championship in open-wheel.
Thanks for your time today, Michael. We wish you the very best for 2012 and hope to see you at the Indy500 in the not-too-distant future!
You can check out Michael's progress this season via live timing at http://www.usf2000.com starting this Thursday at 1:20 pm EST with the opening round of the US F2000 Championship at Sebring International Raceway.  You can also follow him on Twitter @racer54iscool.