PRIVATE Kart Racing School, Stage 1 – Audi – 8:00am – 2:00pm
August 20, 2019 @ 8:00 am

-

2:00 pm

$495.00 – $2970
Kart Racing School, Stage 1 
This full day program is the first step for future kart racers and those looking to better their driving skill. Participants of the Kart Racing School, Stage 1 begin the day by learning the fundamentals of vehicle dynamics and kart control. With this information fresh in mind, drivers will suit up, fit to karts and fire up engines. Drivers complete a total of six 15-minute lapping sessions around our 3/4-mile road course throughout the day, taking away a better understanding of racing lines, proper braking technique, acceleration, cornering forces and vehicle balance.
Kart Racing School, Stage 1 not only includes time behind the wheel, but also ample time working with our team of professional driving instructors. Drivers are provided feedback and coaching after every track session in order to optimize their ability to improve and gain consistency.
Graduates of Kart Racing School, Stage 1 are eligible to return for Kart Racing School, Stage 2. Upon completion of Stage 2 you will be eligible to obtain a Kart Racing License. This license qualifies the holder to enter our Arrive and Drive Kart Racing Series and Arrive and Drive Endurance Kart Racing Events 
Frequently Asked Questions
1.    What is required to drive the Racing Karts?
Drivers should have the basic knowledge of how to drive a vehicle. The karts are simple to drive in practice but take skill to drive fast and effeciently. We'll share with you the knowledge and give you the tools to be your fastest.
2.    What if I crash? Am I liable for the cost of repairs?
You are responsible for crash damage of up to $600 PER INCIDENT.
3.    Do I need my driver's license to race one of your racing karts?
No, a license is not required.  In fact, our racing school is open to drivers 13 years and older.  Please check with a racing consultant if you want to drive, but don't meet the normal age requirement.
4.    What if it rains?
We run the program rain or shine. The karts are well equipped to handle performance driving in wet conditions with rain tires. Of course, in the case of unsafe levels of rain, the program is subject to cancellation.   Cancellation Policy
5.    How do I get my Kart Racing License?
You are eligible for a kart racing license upon successful completion of Kart Racing School, Stage 1 & 2. Once you have completed the courses, you can request an application from your racing consultant, and they will help you through the process.
6.    Can I bring my own equipment?
Yes, but your driving suit needs to be at least a single layer karting suit rated for abrasion resistance, and your helmet must meet current Snell approval.
7.    Can I bring spectators?
Yes, you can bring your fans to watch or take photos for you. No unattended guests under 18 years of age are allowed.
8.    Will the session be video recorded?
You have the opportunity to rent a GoPro for $100 which includes a 32GB microSD card for you to keep. Mounts are preset in the car for an optimal recording angle. Reserve one early, supplies are limited. Renters are liable for the camera if lost or damaged and will be charged retail price in the event they don't return the GoPro.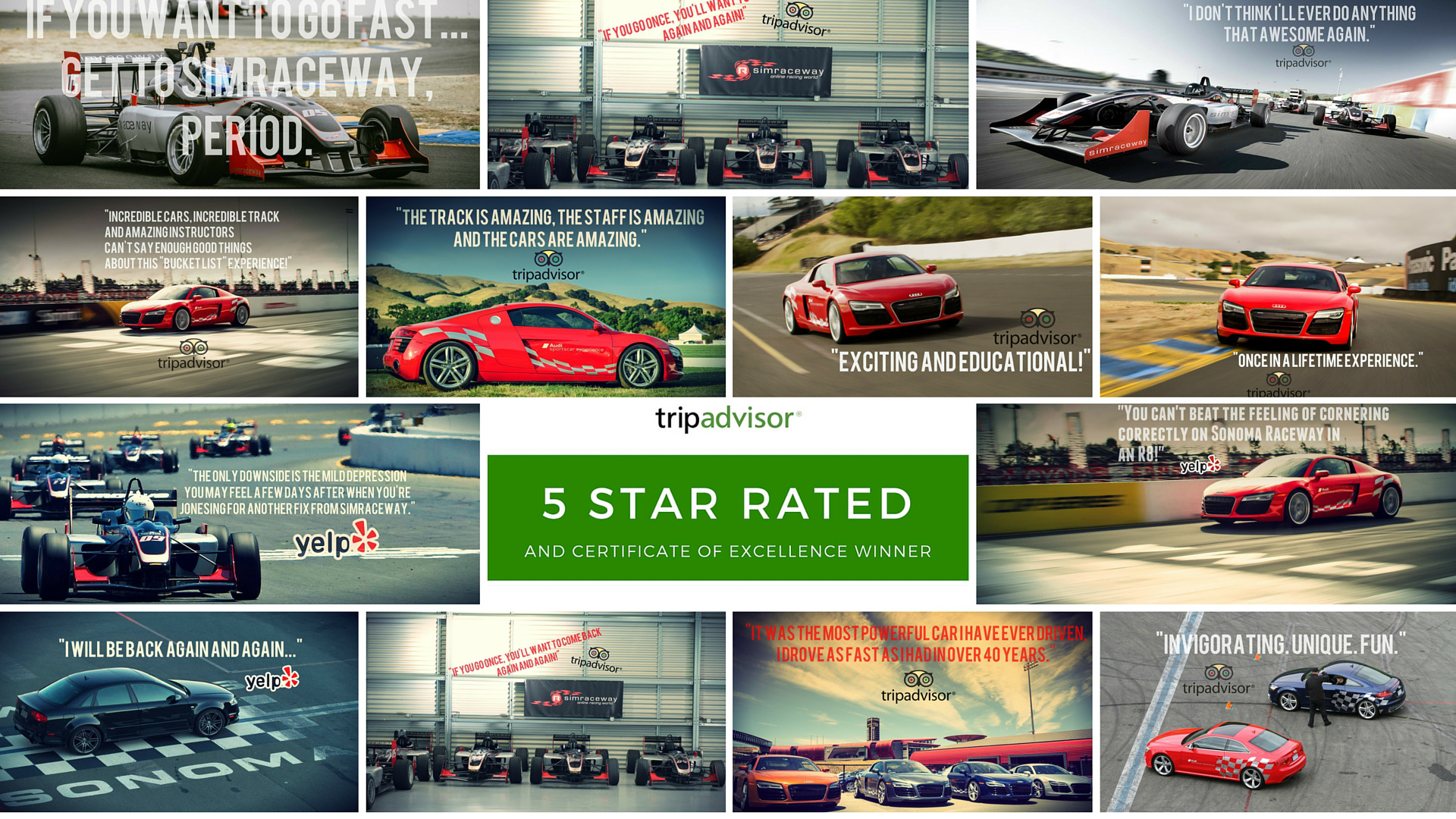 "I don't think I'll ever do anything that awesome again."
"If you want to go fast…get to Simraceway. Period."
"If you do this once, you'll want to comeback again and again!"
"The only downside is the mild depression you may feel a few days after when you're jonesing for another fix from Simraceway."