Racing School, Stage 3
October 29, 2019 @ 7:30 am

-

October 30, 2019 @ 4:30 pm

$995 – $5995
The emphasis in Stage 3 is placed firmly on track time, with high-level driving drills, covering both the complex art of brake release into a corner and high-speed aerodynamic-aided braking, starting each morning off. Three track sessions each day, all utilizing data downloads and real-time feedback from instructors via in-car radio communication, will then provide drivers with ample opportunity to hone all the skills they've learned. This stage will dig deep into the detail, pushing hard to extract the very best from participants and taking them to a serious level
FAQS
1.    What is required to drive the KTM X-Bow Race Car?
Drivers need to know how to operate a manual transmission well ! This is extremely important. Drivers failing to demonstrate proper operation of the transmission will be parked and not allowed to continue the experience. A refund or rescheduling option is not available if the driver fails the manual transmission test.
2.    What if I Crash? Am I liable for the cost of repairs?
You are responsible for crash damage. Insurance can be purchased to lower your maximum out of pocket expenses. Please contact us for more information. A copy of your credit card will be collected at check-in
3.    Do I need my driver's license to race one of your KTM X-Bow?
No, a license is not required.  In fact, our racing school is open to drivers 14 years and older ( if they can drive a manual transmission well ).  Please check with a racing consultant if you want to drive, but don't meet the normal age requirement. Drivers under the age of 18 must be pre-approved by our staff.
4.    What if it rains?
We run the program rain or shine. The X-Bows are well equipped to handle performance driving in wet conditions with rain tires. Of course, in the case of unsafe levels of rain, the program is subject to cancellation.   Cancellation Policy
5.    Can I bring my own equipment?
Yes, but your driving suit needs to be a minimum of 2-layer nomex, and your helmet must meet current Snell approval.  If you need racing shoes, a loaner pair is provided to you at no charge.
6.    Can I bring spectators?
Yes, you can bring your fans to watch and take photos for you.
7.     How do I get my SCCA license?
You are eligible for an SCCA racing license upon successful completion of Stage 1 & 2 School of Racing courses. Once you have completed the courses, you can request an application from your racing consultant, and they will help you through the process.
7.    Will the session be video recorded?
You have the opportunity to rent a GoPro for $100 which includes a 32GB microSD card for you to keep. GoPros are available for purchase at retail price. Mounts are preset in the car for an optimal recording angle. Reserve one early, supplies are limited. Renters are liable for the camera if lost or damaged and will be charged retail price in the event they don't return a functioning GoPro.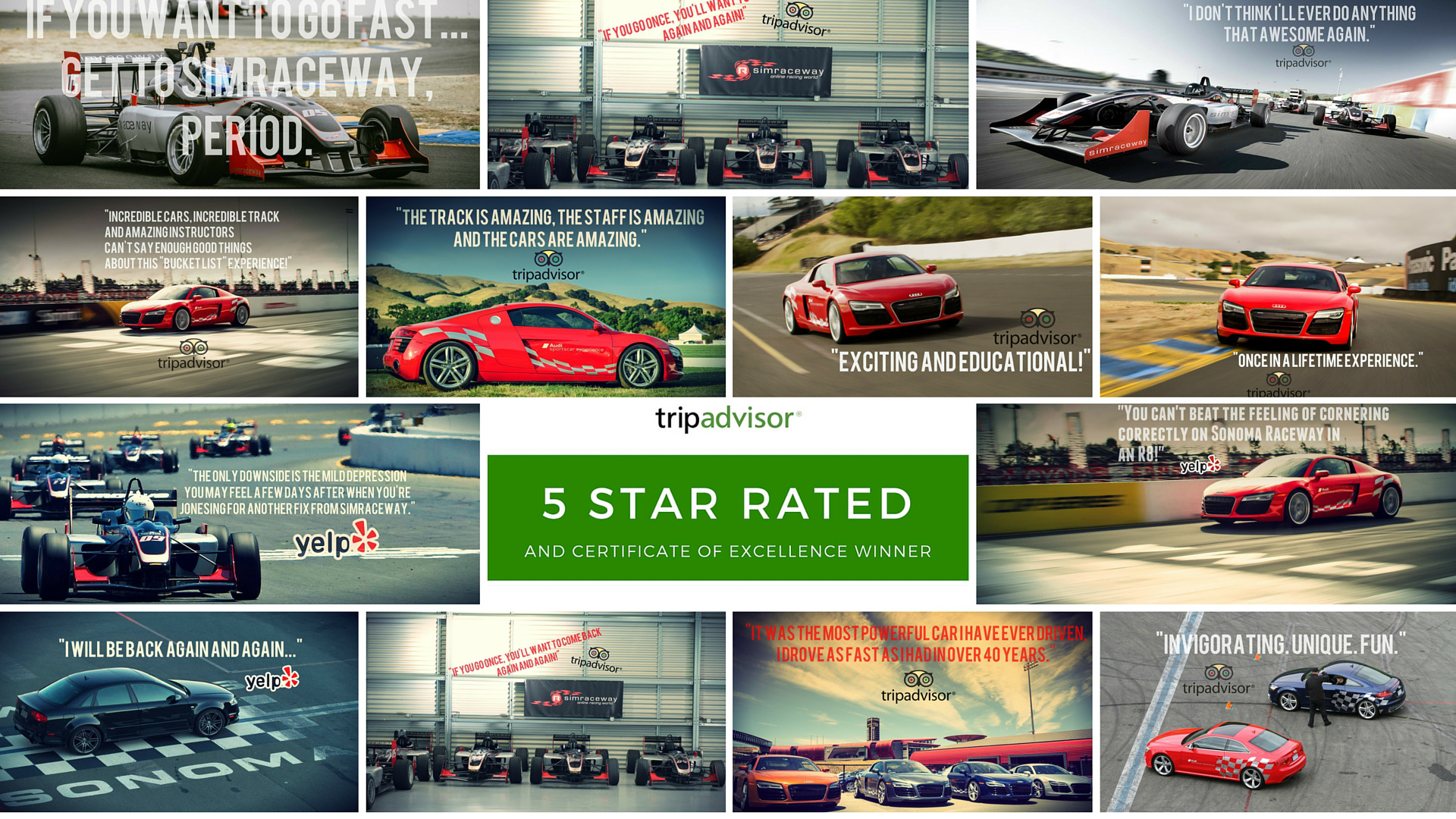 "I don't think I'll ever do anything that awesome again."
"If you want to go fast…get to Simraceway. Period."
"If you do this once, you'll want to comeback again and again!"
"The only downside is the mild depression you may feel a few days after when you're jonesing for another fix from Simraceway."