Racing School, 3-Day SCCA License School
July 9, 2019 @ 7:30 am

-

July 11, 2019 @ 4:30 pm

$845.00 – $6495.00
KTM X-Bow Racing School, 3-Day SCCA License School
The KTM X-Bow Racing School, 3-Day SCCA License School offers three days of progressive instruction, culminating in open lapping of the world-famous Sonoma Raceway in cars capable of incredible performance.
Day one begins with ground school, which covers the operations of the KTM X-Bow Comp R, and all-important acceleration, threshold braking, and downshifting exercises. Then it's into the classroom for an in-depth look at the complex theories of chassis dynamics, before using a dynamic skid pad to explore the boundaries of grip, chassis manipulation, and driver sensitivity to feedback and control techniques. The first day ends with lapping session as participants begin to acclimatize themselves to the vehicle and challenges of Sonoma Raceway.
Day two opens with more driver technique training on both track and skid pad, as participants learn how to control the car at the limit of adhesion. Then, after an important class covering open lapping and the rules of the road, it's time to take all those new skills onto the track in two adrenaline-pumping open-lapping sessions.
Day three builds on all the lessons learned during three open-lapping sessions plus the introduction of high speed aerodynamic driving exercises. Data acquisition is introduced on day 3 allowing the driver to focus on the finer points of his or her performance. Completion of this third day qualifies you to obtain your SCCA Full Competition Racing License.
FAQS
1.    What is required to drive the KTM X-Bow?
Drivers need to know how to operate a manual transmission well ! This is extremely important. Drivers failing to demonstrate proper operation of the transmission will be parked and not allowed to continue the experience. A refund or rescheduling option is not available if the driver fails the manual transmission test.
2.    What if I Crash? Am I liable for the cost of repairs?
You are responsible for crash damage. Insurance can be purchased to lower your maximum out of pocket expenses. Please contact us for more information. A copy of your credit card will be collected at check-in
3.    Do I need my driver's license to race one of your KTM X-Bows?
No, a license is not required.  In fact, our racing school is open to drivers 14 years and older ( if they can drive a manual transmission well ).  Please check with a racing consultant if you are under the age of 18 for approval.
4.    What if it rains?
We run the program rain or shine. The X-Bows are well equipped to handle performance driving in wet conditions with rain tires. Of course, in the case of unsafe levels of rain, the program is subject to cancellation.   Cancellation Policy
5.    Can I bring my own equipment?
Yes, but your driving suit needs to be a minimum of 2-layer nomex, and your helmet must meet current Snell approval.  If you need racing shoes, a loaner pair is provided to you at no charge.
6.    Can I bring spectators?
Yes, you can bring your fans to watch or take photos for you. Guests are not included in lunch catering. Please contact a racing consultant at least five days before the program if your guest would like to join lunch. There is a $55 per day fee.
7.     How do I get my SCCA license?
You are eligible for an SCCA racing license upon successful completion of Stage 1 & 2 Racing School courses or this dedicated 3-Day SCCA License Course. Once you have completed the courses, you can request an application from your racing consultant, and they will help you through the process.
7.    Will the session be video recorded?
You have the opportunity to rent a GoPro for $100 which includes a 32GB microSD card for you to keep. GoPros are available for purchase at retail price. Mounts are preset in the car for an optimal recording angle. Reserve one early, supplies are limited. Renters are liable for the camera if lost or damaged and will be charged retail price in the event they don't return a functioning GoPro.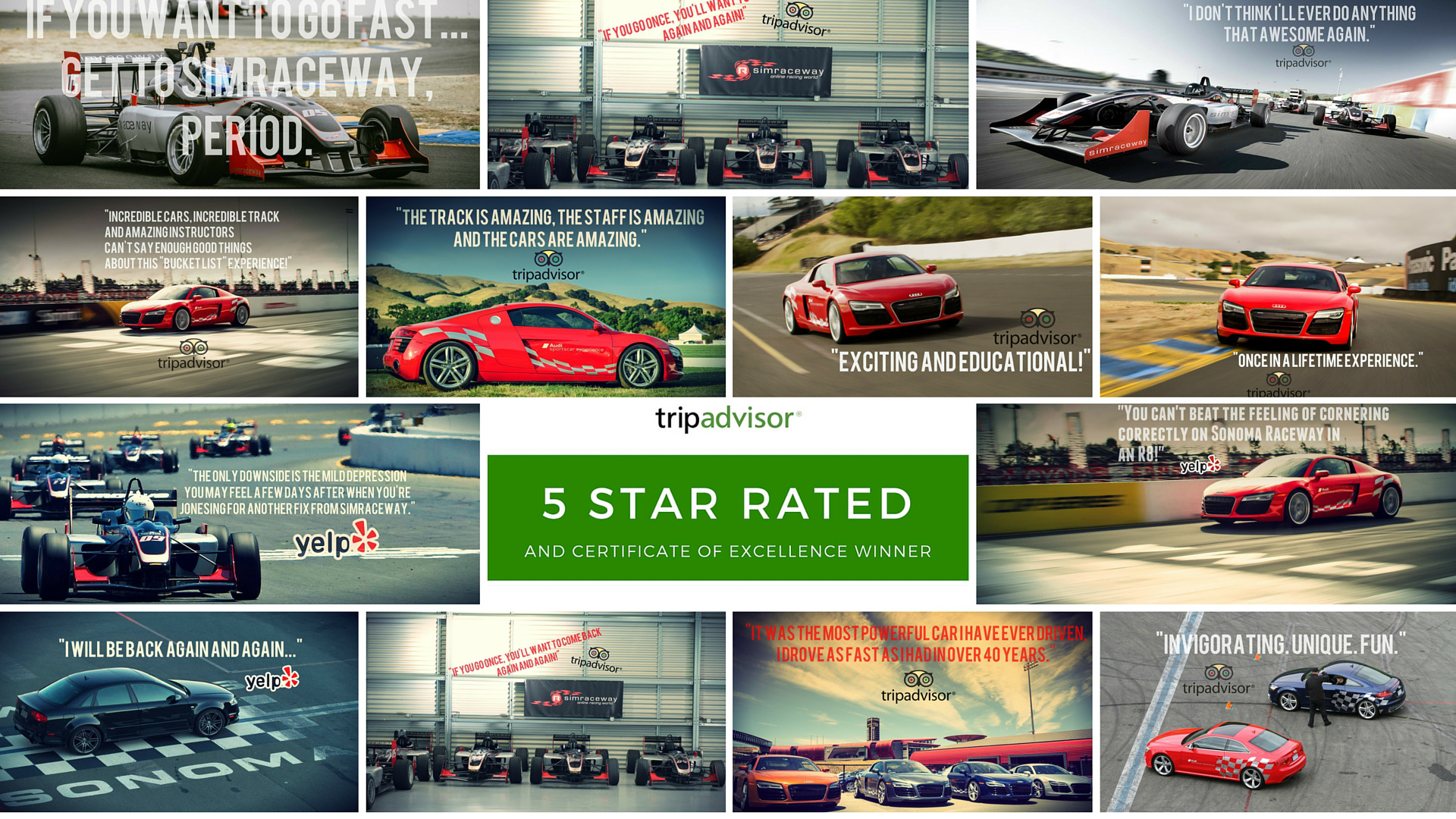 "I don't think I'll ever do anything that awesome again."
"If you want to go fast…get to Simraceway. Period."
"If you do this once, you'll want to comeback again and again!"
"The only downside is the mild depression you may feel a few days after when you're jonesing for another fix from Simraceway."