Formula 3 Racing Experience – Half Day AM
May 16 @ 7:30 am

-

12:00 pm

$1495.00
Purchase Tickets
THE LOLA SRW F3, THE WORLDS FINEST RACING SCHOOL CAR
For those who yearn for the thrill of speeding around a world-famous race track in a state-of-the-art race car, our Formula 3 Racing Experience is the emphatic, adrenaline-pumping answer. Whether you're ticking an item off a bucket list or looking for an unbeatable gift idea, this half-day course has it all, dropping you into the cockpit of the ultimate single-seater training car on one of the most exciting road courses in the US.
After a brief introductory meeting, drivers will be fitted for their race car and supplied with all the necessary equipment. Then, after a short briefing on cockpit operations, it's out onto the world-famous Sonoma Raceway, where one of our expert instructors will be on hand to aid acclimatization. Finally, it's time to open the throttle, with multiple lapping sessions around the 2.52-mile track at ever-increasing speeds.
FAQS
1.     What is required to drive the Formula 3 Race Car?
Drivers need to know how to operate a manual transmission well ! This is extremely important. Drivers failing to demonstrate proper operation of the transmission will be parked and not allowed to continue the experience. A refund or rescheduling option is not available if the driver fails the manual transmission test.
2.    What if I Crash? Am I liable for the cost of repairs?
You are responsible for up to $3500 in crash damage. A copy of your credit card will be collected at check-in
3.    Do I need my driver's license to race one of your SRW-F3s?
No, a license is not required.  In fact, our racing school is open to drivers 14 years and older ( if they can drive a manual transmission well ).  Please check with a racing consultant if you want to drive, but don't meet the normal age requirement.
4.    What if it rains?
We run the program rain or shine. The F3 cars are well equipped to handle performance driving in wet conditions with rain tires. Of course, in the case of unsafe levels of rain, the program is subject to cancellation.
5.    Can I bring my own equipment?
Yes, but your driving suit needs to be a minimum of 2-layer nomex, and your helmet must meet current Snell approval.  If you need racing shoes, a loaner pair is provided to you at no charge.
6.    Can I bring spectators?
Yes, you can bring your fans to watch or take photos for you.
7.    Will the driving be video recorded?
You have the opportunity to rent a GoPro for $100 which includes a 32GB microSD card for you to keep. GoPros are available for purchase at retail price. Mounts are preset on the car for an optimal recording angle. Reserve one early, supplies are limited. Renters are liable for the camera if lost or damaged and will be charged retail price in the event they don't return the GoPro.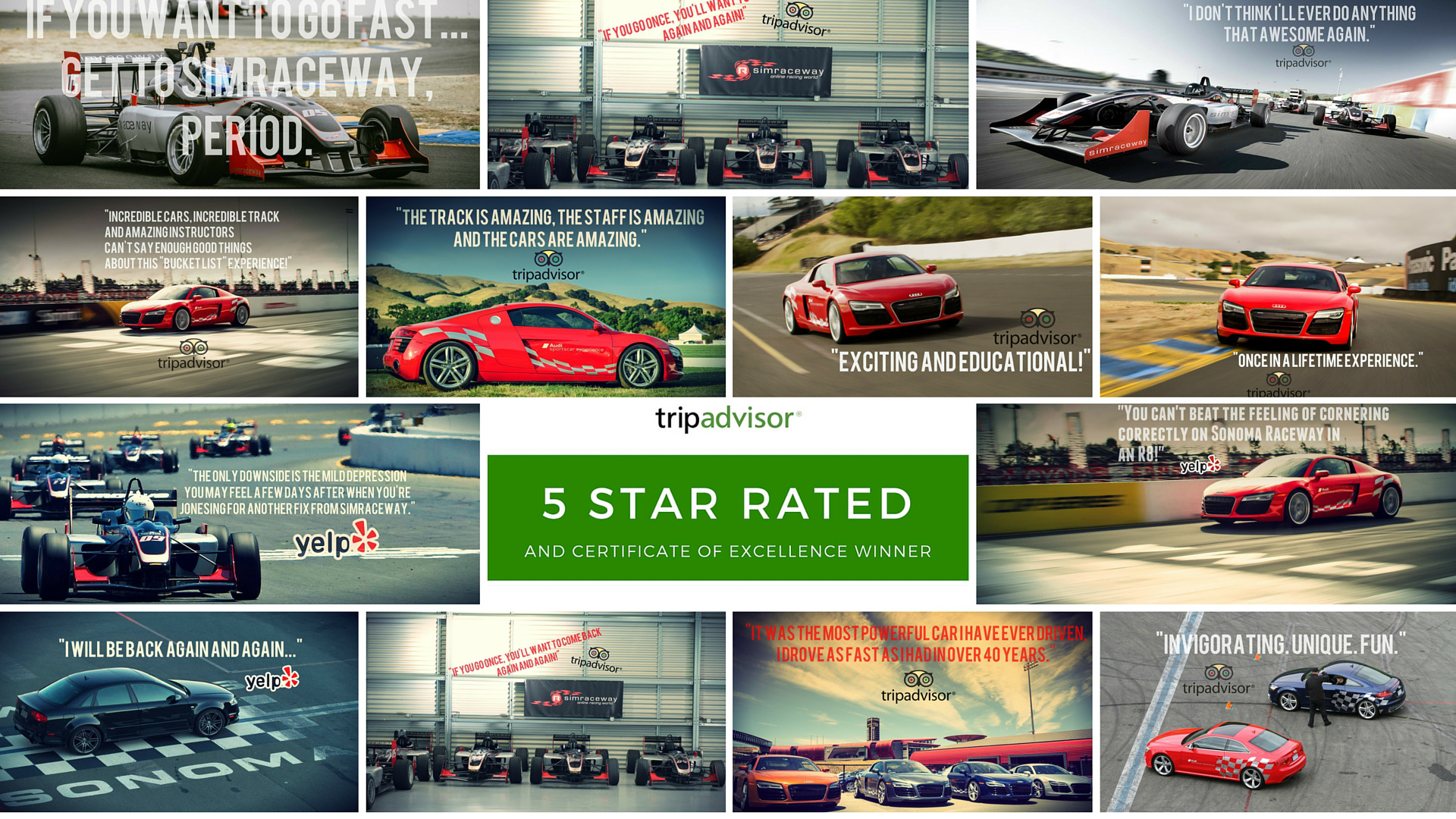 "I don't think I'll ever do anything that awesome again."
"If you want to go fast…get to Simraceway. Period."
"If you do this once, you'll want to comeback again and again!"
"The only downside is the mild depression you may feel a few days after when you're jonesing for another fix from Simraceway."